outdoor events venue in Spartanburg, SC
From secluded waterfront groves along the Pacolet River to the massive covered outdoor stage, The Music Camp is the ideal outdoor events venue for all of life's special occasions. Surrounded by the natural beauty of Upstate South Carolina, our captivating fifty-five acre music park proudly hosts the following events:
Weddings
Music & Art Festivals
Camping Events
Craft Fairs
Corporate Retreats
The Music Park
The music park boasts a sheltered open air pavilion and the massive covered outdoor Greenfield Stage in the main meadow. The Cotton Gin Stage is nestled in a sandy glade among mature hardwoods by the rushes of the River. Ceremony and reception sites abound throughout the winding forested trails and waterfront groves.
The Music Camp is the only music festival and outdoor wedding venue offering riverfront Glamping and Camping in the South Carolina Upstate.
  Convenient Location in Upstate South Carolina
Our charming outdoor events venue is located right off of Interstate 85 at Exit 80 in Spartanburg, SC. Greenville/Spartanburg International Airport GSP is less than thirty minutes from our front gate. We are located in Upstate South Carolina, easily accessible from points throughout the Geogia-North Carolina-South Carolina Tri-State Region.
The Music Camp is one hour west of Charlotte, an hour and a half northwest of Columbia, SC, one hour southeast of Asheville, NC and three hours northeast of Atlanta, GA.  READ MORE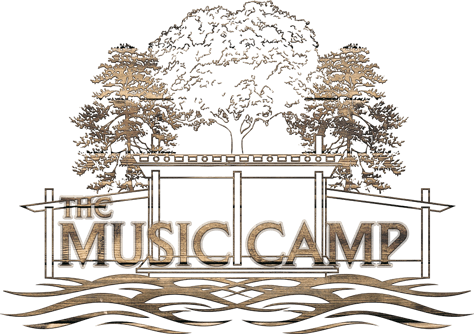 The Natural Place
WEDDING PACKAGE PRICING
sign up here to
receive our newsletter
What is Glamping?
Glamorous Camping or "Glamping" at The Music Camp outdoor events venue is an experience you'll remember for a lifetime. Imagine camping in one of the most beautiful spots in Upstate South Carolina, with luxury amenities and resort-style services. Your 12'x 14′ wall tent will be perched on an ample deck above the rapids of the Pacolet River, just a short stroll from the reception grounds.
Attentive Staff & Luxury Details
Attentive staff dresses each tent with decorative fabrics, rugs, and quality furnishing including a queen size bed with just the right thread count. The Pearl, our Gypsy Wagon with flushing toilet and adjacent hot shower, is just a few steps away. No detail is overlooked. Each morning, our Glamping Guests are treated to local baked goods, seasonal fresh fruit, and gourmet coffee/tea service. Check out our Glamping Wedding Packages.