The Natural Place
Spartanburg, SC
Festivals at The Music Camp
August 18th – 20th 2023 Get Off the Grid  Music Fest 
Only 1500 tickets will be sold  Buy tickets here
The Music Camp has multiple stages, forested riverfront campsites, and a max capacity of 2000 attendees with 1,200 campers.
The Natural Place for your Music & Arts Festival
Nestled among the trees along the riverbanks, The Music Camp is the perfect plug-and-play venue for boutique arts and camping music festivals, craft fairs, and corporate retreats.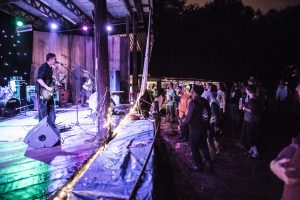 Our Greenfield Stage and adjacent audience shelter provide more than 6,000 square feet of covered space. Constructed of recycled textile equipment, the Elizabeth Cotten Stage is located in a shady grove by the Pacolet River, offering an ideal location for more intimate performances.
With more than fifty-five acres of stomping grounds The Music Camp can accommodate crowds of up to 2,000 guests.
Vendors Delight
.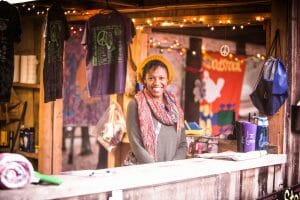 Food and craft vendors appreciate the multi-phase electrical outlets in our open meadow, as well as the covered vendor stalls with electricity and running water.
Stage Specifications
The Greenfield Stage measures 22′ deep by 50′ wide. The backstage/loading dock yields another 11′ by 50′ of covered tech space. "The Bud Man" boat provides a unique greenroom for performers. The stage is illuminated by fluorescent house lights with colored flood lights. Additional lighting and back up generators are always recommended for professional production.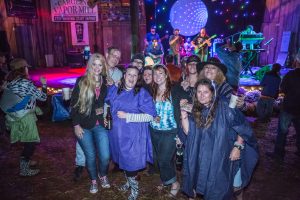 Spartanburg County reserves the right to impose a noise ordinance beginning nightly at 9:30pm. We self-impose a curfew on amplified sound at 11:00pm. Under special circumstances, we may extend this to 12:00am midnight.
The Elizabeth Cotten Stage measures 12″x 17″, with 110 electrical outlets and house lights.
Campers Paradise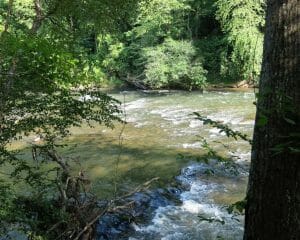 Camping enthusiasts enjoy more than fifty acres of forested riverfront sites. Colorful lights illuminate the many pathways, staircases, and bridges. Running water is available throughout the property. 1500 guests can enjoying camping for an event. An additional 500 can park in our meadow. Neighboring properties can be leased for additional parking at larger events.
Location, Location, Location
The Music Camp is conveniently located right off Interstate 85 in Spartanburg, SC. The Hampton Inn & Holiday Inn Express are just minutes away. Greenville-Spartanburg International Airport (GSP) is less than a half hour drive. We are one hour from Douglas International (CLT) in Charlotte, NC, and one hour from Asheville/Hendersonville International (AVL). Atlanta, GA is three hours away.
Hit Us Up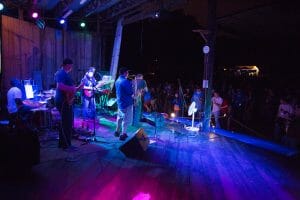 The Music Camp is available by appointment only. We are happy to meet with you for a free and informative tour & consultation. To inquire about hosting your event at The Music Camp, Contact Us