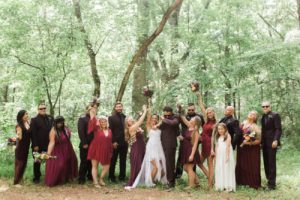 According to the Vogue.com post below, The Music Camp is ahead of the game when it comes to decor!  Trees! And greenery!  We've got lots of that!  In the forrest & along the river.
After party?  That's what we do!  The Music Camp encourages after parties. We have created Glamping & Camping packages and Center Camp, so you and your guest don't have to leave.  For a small additional charge you and your guest can camp out overnight along the river.  What's more fun then ending a busy wedding day then with good folks sitting around a campfire sharing stories of the day and for some, uniting with new family members.
Post from Vogue.com
"Trees! We're seeing a huge interest in trees of all kinds—from olive to citrus, cypress to birch. I love the impact of their scale in a space, and whether rented or purchased and planted in the ground after the wedding, trees are a wonderful antidote to disposable wedding décor.
I also think we'll see after-party transformations. It used to be that an after-party consisted of a DJ coming on to replace the band at the end of the night for an hour or two and 'the young people' would dance on. But 2017 will see fully developed after-party themes that stem directly from couples' personal loves. Electronic music festivals? Your favorite cabaret hot spot in Paris? A beach party in Mykonos? This is the time for everyone to let loose in a new environment that has become a full-on focal point of the wedding night for the entire crowd." —David Stark
See full article HERE.